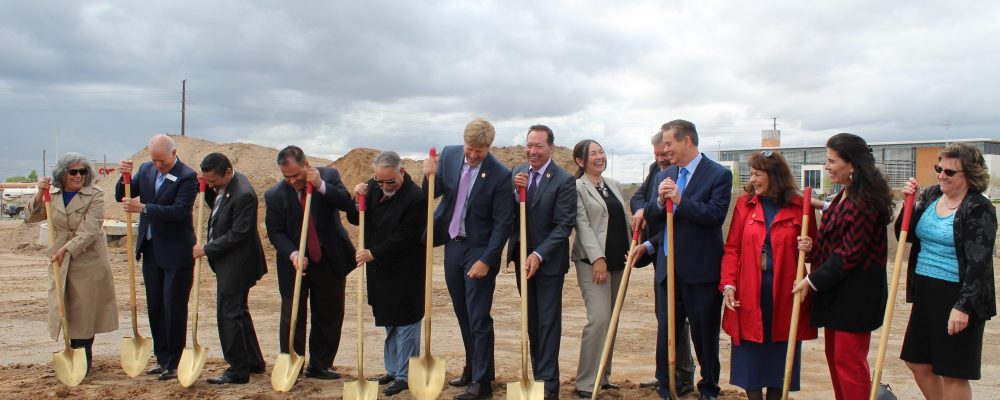 Construction begins on new mixed-use community asset.
ALBUQUERQUE, N.M. – New mixed-use center will transform Albuquerque's Westside.
Nuevo Atrisco, a $26 million development which broke ground today, is an unprecedented collection of restaurant, retail, community space and housing on the northwest corner of Unser Boulevard and Central Avenue. A true community asset, the catalytic public-private partnership will create an experience unlike any other along historic Route 66.
"Nuevo Atrisco will be city's premiere activity center," Albuquerque City Councilor Ken Sanchez said. "We have worked diligently with the community, State and City elected officials, YES Housing, as well as Maestas Development Group to ensure this is the central hub for economic growth on the Westside and a project that will create jobs and inspire continued development in our community."
"Nuevo Atrisco is a captivating blend of historic tradition and new, exciting options for residents and visitors alike," Chris Baca, President/CEO YES Housing, Inc. said. "This development will truly capture the flavor of our city. Everything from the upscale apartments and workspaces, to the retail and restaurants will reflect the diverse culture of Albuquerque's Westside. It's the development our community has been waiting for, and we are delighted to bring this project to fruition."
"A unique project for our city, Nuevo Atrisco will offer distinctive food options and retail services in a compelling community gathering space," Steve Maestas, CEO Maestas Development Group said. "This vibrant blend of amenities will create jobs, and advance economic development in the area."
The City of Albuquerque, New Mexico Mortgage Finance Authority and Wells Fargo along with YES Housing, Inc. and Maestas Development Group are behind the project that will encompass more than 30,000 square feet of office, restaurant and retail space, an 86-unit apartment complex and a 20,000 square foot plaza and community event epicenter.
The captivating four story apartment complex will have a fitness and laundry facilities, community space, a community garden and a breathtaking panoramic rooftop deck. It will host affordable senior living and cater to families, students and artisans.
The housing component of the project is expected to be completed in May of 2020, and the retail portion should be completed in 2021.