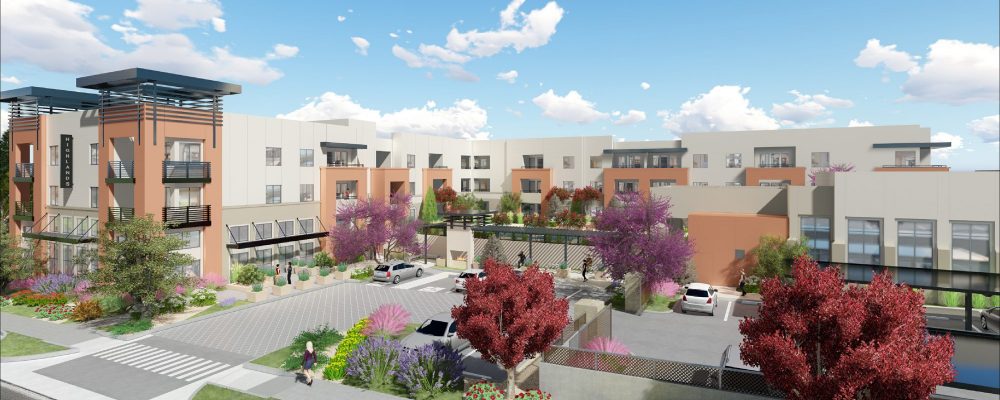 ALBUQUERQUE, N.M. – New luxury apartments will transform historic Route 66.
Highlands North, a 4-story, 92-unit urban, multifamily community situated on historic Route 66 is under construction. The luxury housing project is Phase II of The Highlands master plan. Phase I, which broke ground in March of 2019, is a 118 room Marriott SpringHill Suites Hotel with a third floor dedicated to Ronald McDonald House Charities® of New Mexico.
Titan Development and Maestas Development Group are behind the project in partnership with Alliance Residential. Highlands North is expected to be completed around March of 2020 with units available soon after.
"Highlands North will appeal to a new wave of renters who are looking for the total experience of an urban multifamily project complete with all the amenities you would see in cities across the country," Josh Rogers, Director of Development at Titan Development said. "This project is unlike anything else in town and raises the bar for rental living by creating a dense, urban experience that will transform and reinvigorate the area."
"The Highlands is a true community asset," Steve Maestas, CEO of Maestas Development Group said. "This phase of the project speaks to the connectivity of the overall development. Highlands North will connect residents to robust dining, retail and services and make living at The Highlands an unmatched experience."
Highlands North is centrally located along the downtown Central corridor with excellent walk-ability to the best restaurants, bars and breweries in the city. The project features a variety of one and two-bedroom units with deluxe accommodations. The community will feature a state-of-the-art fitness center, resort-style pool, and club house with TV's, WiFi, a billiards table and coffee bar. Residents will enjoy close proximity to top employers, entertainment and all that Albuquerque has to offer.
The Highlands, a $120 million, 12-acre project overhauling blighted and crime ridden properties along historic Route 66, will create more than 550 permanent jobs upon completion and approximately 1,400 construction jobs.
With more than 40,000 square feet of total restaurant and retail space, the development is comprised of The Highlands Central Market (equal parts grocery, local restaurants and gathering space), 320 multi-family housing units (the Highlands North and Highlands East), the 118 room Marriot SpringHill Suites Hotel including an additional floor (20 guest rooms) which will be home to Ronald McDonald House Charities® of New Mexico and Albuquerque's first skybridge.
There are eight total components of The Highlands project.
About Titan Development
Titan Development is a full-service development company, providing all necessary services to transform raw land into an operational facility. Formed in 1999, Titan Development has a wealth of experience in both land and vertical development. Titan maintains offices in New Mexico and Texas in order to foster the relationships that create success for our clients and investors.
Titan delivers projects with the highest quality work and customer service, within budget and on time and tailors the structure of each development to meet client objectives.
About Maestas Development Group
Maestas Development Group (MDG) is a distinctive commercial real estate developer with more than 25 years of successful experience in the industry. Maestas Development Group's motto is: We exist to make things better. With more than $500 million in assets acquired, developed and operated, and more than 50 successful projects, MDG develops opportunities to improve communities, create jobs and promote economic growth.